ASQ-3™ Ages & Stages Questionnaires®, Third Edition (ASQ-3)
Avg. Duration
10 – 15 minutes
Implement the ASQ-3 using PTI Apps and Portals – Patient-centered care starts with patient input, but the process is time-consuming and costly when you use paper. Electronic screening and assessment gets staff out of the loop, using your clients as a data entry resource. Once you have client input in an electronic format, the rest is easy.

The Questionnaires are part of ASQ-3™, the bestselling Brooke's Publishing screener, trusted for more than 20 years, to pinpoint delays as early as possible during the crucial first 5 years of life. Now even better using PTI Apps. These 21 age-appropriate questionnaires of the ASQ-3 are for the ages between 1 month and 66 months. They effectively screen five key developmental areas: communication, gross motor, fine motor, problem solving, and personal-social. Each of these 5 different domains have their own score and a cumulative score is also generated.

Fast and easy to use, the PTI App version of the ASQ-3 assessments take just 10–15 minutes for parents to complete and is scored in real-time. Assessment results can be printed, loaded into an EMR/EHR and are available as a PDF. Parents answer the assessment about their child, clicking the answer that best describes the child's abilities. Clear questions, illustrations, and tips help parents complete the assessments quickly and accurately.

The assessment is then immediately scored electronically by the PTI App. The PTI App administered ASQ-3™ Questionnaires are the most economical, reliable and validated method to screen young children for developmental delays in the first 5 years of life. And with the PTI Apps, administering the ASQ-3 is even more complete, concise and cost-effective.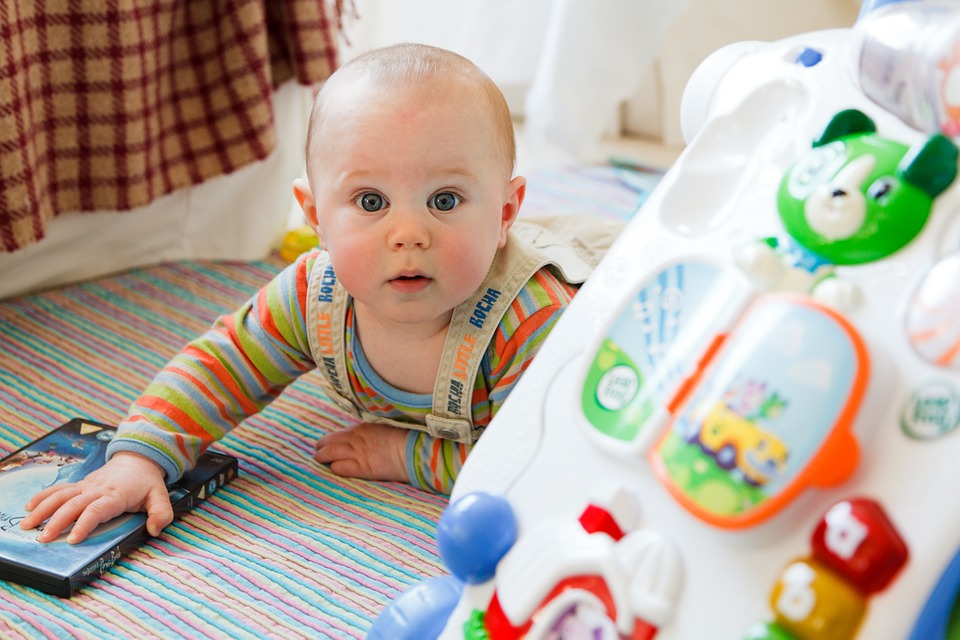 The PTI Apps streamline the ASQ-3 Questionnaires for easier use. Each assessment also has a summarized page of responses available. Learn more about the complete ASQ-3 system, and discover ASQ:SE-2, the screener that reliably identifies young children at risk for social or emotional difficulties also available through PTI Apps.
For more information and validity information :
http://dvha.vermont.gov/for-providers/developmental-screening-preferred-tool-list-may-2011.pdf
---
Brookes ASQ-3 Information Summary Report – Sample
Designed for discussing results with the caregiver, some key features of this report include:
– Scores outside the shaded zones mean the child is doing well in these areas.
– Scores in the light shaded "monitoring" zone—new to ASQ-3—help identify children at risk. There are activities suggested to help the child make progress in these areas before the next screening.
– One or more scores in the grid's dark shaded zone that indicate the child may need further assessment.
An extensive, detailed Clinician's Report may be created, printed or stored as needed.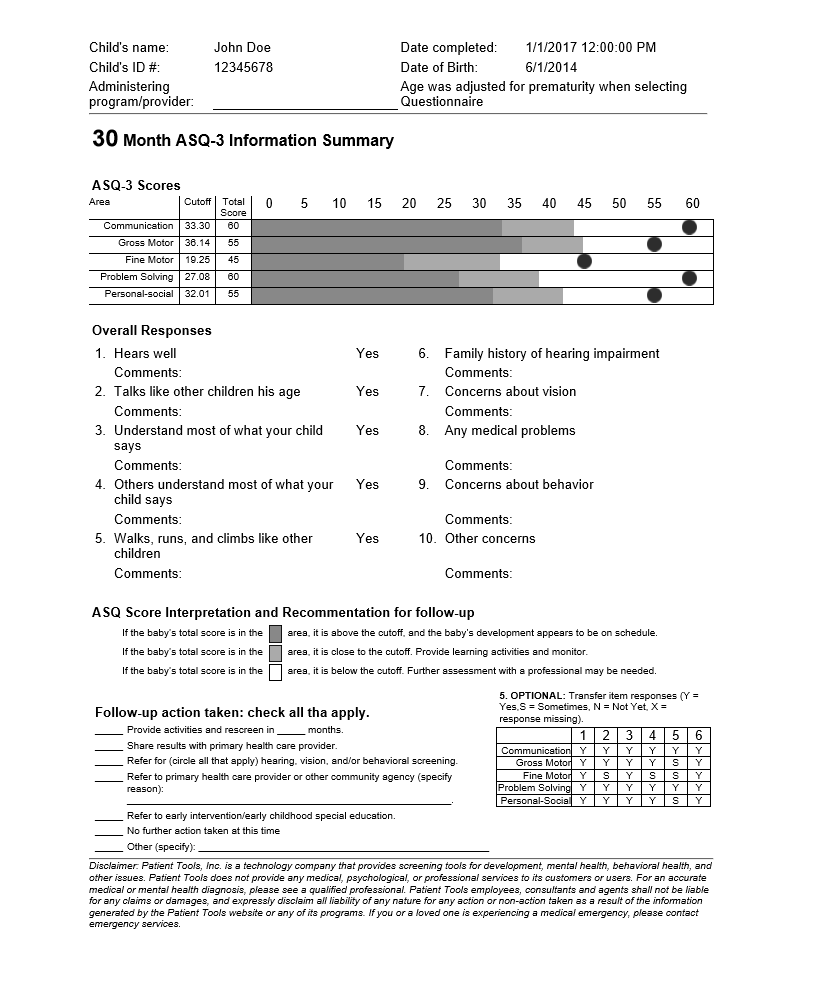 ---
ASQ-3 Clinical Report – Sample
Designed for use in medical settings, some key features of this report include:
– Computed text notes and dispositions sections.
– Trended graphs, normalized using T-Scores so different age groups can be viewed on the same scale.
– Comments and item responses with scoring, reporting all the information gathered.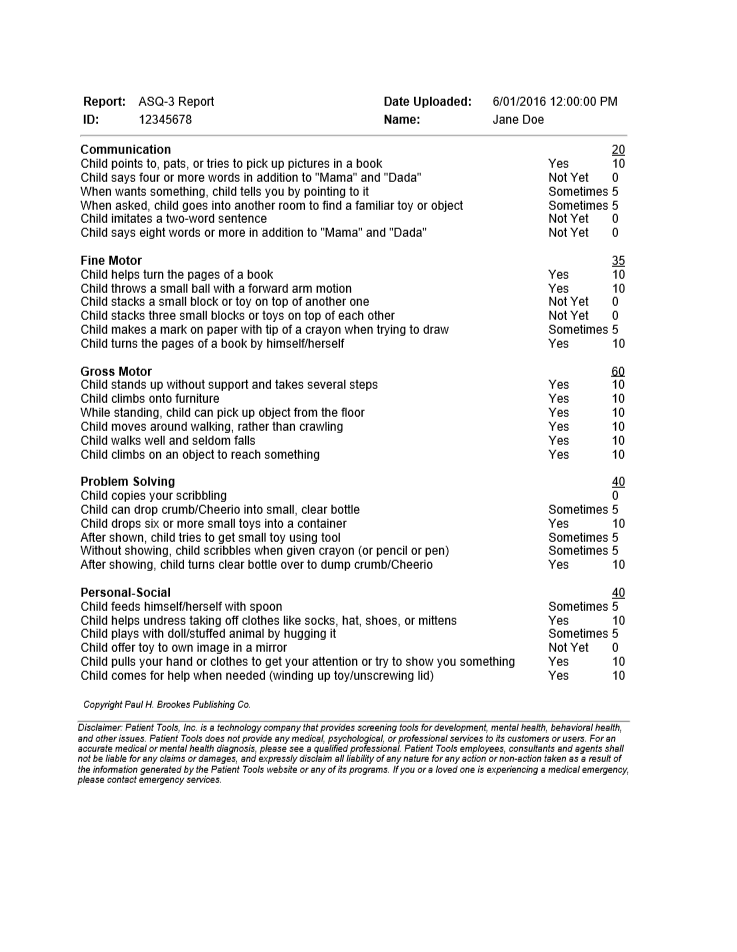 ---
ASQ-3 Personal Report – Sample
This a general report given to caregivers after assessment with scores that may show further investigation is warranted.
---
ASQ-3 Agency Report – Sample
Report statement to show an assessment has been taken and further contact will be scheduled if needed.